When we're talking about getting natural exposure online we are primarily talking about getting good rankings. The only way to get traffic that isn't gained through Ads, be they AdWords or social media ads, is to ensure that your content ranks well for queries related to your field of expertise.
We do realize that this is quite a broad statement and that there is a whole lot of work involved in actually getting there. However, unlike other forms of advertising, the results of SEO (Search Engine Optimization) are a bit more permanent.
We've created this SEO checklist to help you keep track of all the different factors involved in getting good rankings. Things can get quite hectic when managing an SEO campaign and any slip-ups may diminish the overall impact of your campaign. This is why it's a good idea to keep a checklist to help you remain on top of things.
Essential Tools for SEO
There is a ton of tools out there that can help you manage various aspects of your SEO campaign but we're here to talk about the essentials. These tools are most broadly used and proven to be very reliable.
This is the basic tool for your SEO efforts. It comes directly from Google and offers the following features:
Keywords and Traffic – You can check to see how much traffic your individual keywords bring to your website.
Website Error Checker – Through this tool you can check the website for errors and having an error-free website is one of the more crucial aspects of SEO.
Sitemap Submission – If you want to ensure that your website gets ranked, you need to do all you can to help Google's website crawlers find all the pages without any problems.
These are by no means the only features of the Google Search Console but they are the most prominent ones.
Another essential tool that comes from Google and focuses on giving you a better insight into your website's performance. Google Analytics should be set up as soon as your website is up so you can get the most relevant data possible from the get-go. It can also be connected to your Google Search Console to improve the information you get within Google Analytics.
Some of the things that Google Analytics helps you track are website bounce rate, traffic numbers, the traffic you are getting from Google, pages which generate the most traffic, information about other sites and search engines that get you traffic – among other things.
For a long time, WordPress has been the dominant CMS (Content Management System) on the market and there are few signs that this is going to change. Yoast SEO is a plug-in for WordPress that helps you manage daily SEO tasks with ease and also helps with sitemaps and robot.txt.
Keyword Research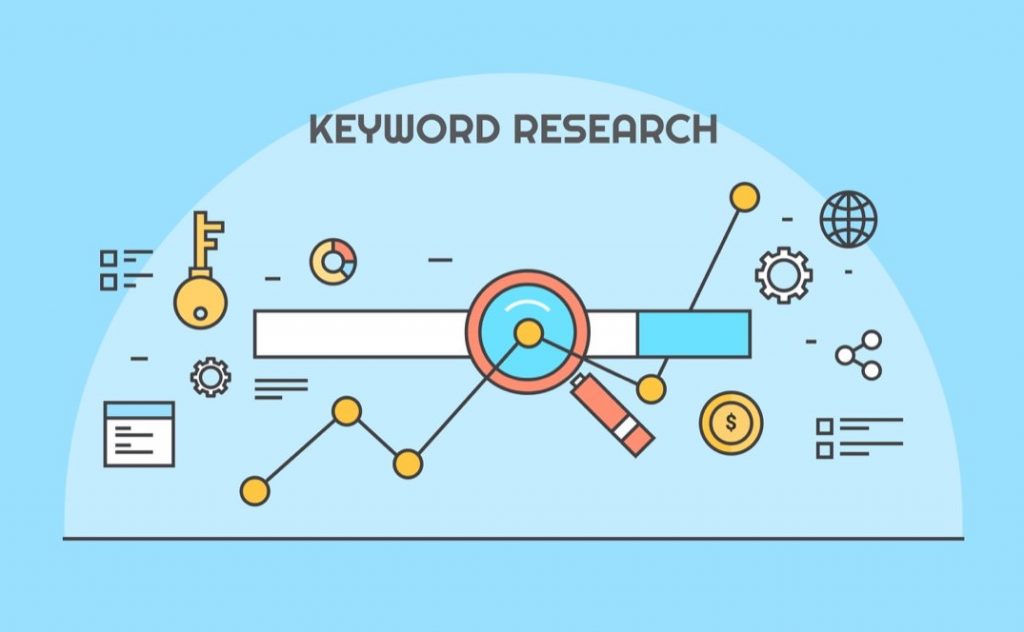 In the past, keywords have been the primary way to ensure a good ranking. This was due to the fact that back then you could abuse keywords in various ways to ensure your ranking. Naturally, when Google noticed this abuse, they cracked down hard on the abusers but keywords are still VERY relevant.
The rules are a bit different now and search engine algorithms are much more sophisticated when it comes to finding out what your website is about – if you use your keywords properly.
Still, the tricky thing is to find out what the best keywords are for your particular situation. There are a few techniques you can use to discover your keywords.
The easiest way to gain access to long-tail keywords that people are searching for is through Google suggestions. You simply open Google search and type in a basic keyword you would like to rank for and the search bar will show the most relevant long-tail searches people go for.
This tool is great if you want to give a bit more substance to your keyword choices. It offers a lot of details related to individual keywords like difficulty (of ranking), search volume (how often people search for it), CPC (Cost per click) and so on. This tool is here to help you find the most optimal keywords to focus on in terms of competition and traffic they bring once you rank.
This is another one of Google's official tools but this one is primarily focused on finding keywords for use in AdWords campaigns. Still, the keyword data is very precise, being that Google stands behind it and it can be a great additional asset for your keyword research process.
There are a lot of other techniques you can use to find keywords. Doing competition analysis is one of them, searching for keywords on Reddit and Quora is another. Still, you need to make sure that there is some data baking up your choices, so make sure you use one of the above-mentioned tools to check their quality before you commit to any of them.
On-Page SEO

Before you go out and attempt to build up your website's reputation, you'll have to take care of the on-page optimization first.
While the on-page optimization isn't terribly difficult, there are really a lot of things to think about and get in order. It's also important that these best practices be applied to any future pages and content you might add to your website.
a) URLs
Google will use your URL to attempt and extract more information about the page it's crawling through. This is why it's a good idea to put your primary keyword into your page URL.
Another important thing to keep in mind when it comes to URLs is that those with fewer characters inside the URL seem to rank better than those with more. A recent study conducted by Backlinko, which included 1 million search results seems to indicate that less is more when it comes to URL length as a ranking factor.
b) Tags
In the past, tags used to be the bread and butter of keyword optimization and, well, keyword stuffing. This "golden age" as some would refer to it, is gone, and these days tags have a more modest role in SEO while some have become completely obsolete.
Still, this doesn't mean that there are not important. Tags are a broad subject and we could devote a whole article to them, which we probably will at some point, but for now here is a short overview of the most important tags.
-Title Tags
These tags typically appear as clickable titles in SERPs as well as social media. They used to be very important for ranking (keyword stuffing and similar black hat approaches) but these days their role is to attract attention and improve the click rate, so craft them with care.
They should be unique and explain the content of the text well. The length of the title should be somewhere between 50 and 60 characters so that they display properly.
-Meta Description
The meta description takes up the biggest part of the snippet and is probably the biggest factor in your click-through rate and bounce rate. The character count stands between 150 and 160 characters.
The meta description is a piece of text that should describe what the reader can find in the article and assure them that they will find what they need within it. It's a good idea to include a call to action and relevant keywords, just make sure that you do it in a way that isn't spammy.
-Image Alt Tags
One of the things Google and other search engines are not particularly good at is deciphering what the contents of an image are. The purpose of an image alt tag is to help search engine crawlers get this information.
Also, this text displays when the image, for whatever reason, fails to load up. This allows the users to get a sense of what the image is and how it fits into the context of the article even when it isn't displayed.
These are the basic tags you need to worry about but this is a much deeper subject, as tags are used for different purposes and specific situations.
c) Keyword Placement
A lot of people start thinking about keywords by focusing on keyword density (percentage of the text occupied by the focus keyword) which is an obsolete approach and makes the text look artificial to both crawlers and users. Here are the three basic things you should keep in mind.
-Keyword at the Start of the Title
The most important thing is to add your keyword to the title tag as close to its beginning as possible. The reason for this is the fact that search engines tend to view it as more important when it's closer to the beginning of the title.
-Keywords in the First 100 Words of the Text
A big mistake people make is to start the article off with an elaborate intro which has little to do with the subject matter of the content. Due to this, their keyword tends to come up much later in the content.
Make sure you start your article with an intro that deals directly with the rest of its content and also that you insert your keyword naturally within this intro so the search engines can get a better idea about its subject matter.
-LSI Keywords
Latent Semantic Indexing (LSI) is a mathematical way to identify relationships within a text and is a technique used in Natural Language Processing (NLP). The LSI keywords, also known as semantic keywords, are keywords that are closely related to your primary subject matter (primary keyword).
They serve the purpose of confirming to the crawlers that the content handles the subject matter well. Furthermore, they are used to better identify related queries that are not formed in the same manner but are asking for the same thing. You can use semantic keywords by using one or a few of the tools from the keyword section of this article.
d) Content
One of the most important aspects of SEO is content. Everything we do related to SEO is ultimately tied to content. Our keyword research serves as a basis for our content. The content we create is material for search engine crawlers, a source of traffic, it's the reason we get inbound links, it's the reason people stick around our website.
Still, all this is true only if we do it properly. Even though the content is one of the most important aspects of SEO, creating content to satisfy search engine parameters is not a good idea. Content should be created with the goal of engaging your target audience.
Content creation is probably the most difficult aspect of SEO to grasp. Since we've been talking about technical aspects of SEO and suddenly we've switched to something that has more to do with creativity, entertainment, education, engagement – to many who haven't dealt with SEO in the past, this might seem like we took a left turn somewhere along the way.
If we take a look at an average business website, disregarding its content (videos, infographics, blog posts, PR posts, news, etc.) we get a very stale online presence which contains only the rudimentary information about the company.
This is why we create content, to keep people coming back to our website and while many businesses don't recognize it, finding a voice for their company that people will enjoy is crucial to the success of their online presence.
Content is a very complex issue and if developed properly it can even lead to becoming a separate source of income for a company. High traffic websites needn't really sell anything and/or convert traffic to actual leads but this is a different subject.
You can expect the second part of this article to be within a couple of weeks – We'll link it here when it's live so stay tuned.